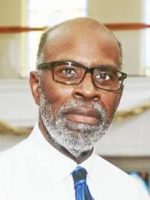 Pastor West believes that God has called him to minister the good news of Jesus the Christ under the power of the Holy Spirit without boundaries of race, class, sex or nationality. His is a ministry to proclaim the transformative power of Christ to every aspect of human life.
Pastor West is the oldest son of John H. West, Jr. and Gwendolyn Clark West. He was raised in Moorestown, New Jersey. He graduated from the Moorestown Public Schools in 1972. He earned a Bachelor of Arts degree 'cum laude' from Lincoln University in 1976 and a Master of Divinity degree from Pittsburgh Theological Seminary, Pittsburgh, Pennsylvania in 1979.
While attending seminary, Pastor West was licensed to preach on March 5, 1977 and ordained a minister of the Gospel on July 22, 1979, at the church of his spiritual birth, baptism and nurture – the Second Baptist Church of Moorestown, New Jersey.
After seminary, Pastor West returned to Lincoln University where he served as University Chaplain for 14 years. Through a ministry that was biblically based, spiritually driven and culturally informed, Lincoln University witnessed substantial growth in the Sunday worship attendance, the creation and development of more than 15 groups, programs, seminars and ministries, and the guidance of more than 25 young men and women who have entered the ministry.
In addition to his responsibilities as University Chaplain, Rev. West also served as an Assistant Professor of Religion and Acting Chair of the Department of Religion. He is the recipient of numerous awards, including: Who's Who in Religion, Who's Who in American Education, Who's Who in the East, Who's Who in American Christian Leadership and Outstanding Young Men in America.
In 1993, Rev. West accepted the leadership of the Siloam Baptist Church. During his tenure, the Siloam Church has experienced a fresh spirit of worship, significantly increased membership, mission outreach, new programs and ministries. Pastor West preaches powerful sermons and has visionary eyes set on tomorrow. Under his leadership the church has purchased three buildings to house its vision of the future. In 2017 we completed Phase 1 of our church expansion that included additional classrooms, office space, ADA compliant bathrooms and an elevator."
He led the membership in developing a Mission Statement, which continues to empower the movement of God at Siloam today: "THE SILOAM BAPTIST CHURCH IS A WORSHIPING, SERVING FAMILY OF FAITH SHARING GOD'S HOPE, HEALING, AND WHOLENESS THROUGH JESUS CHRIST WITH ONE ANOTHER, OUR COMMUNITY, AND THE WORLD." He is married and together with his wife Patricia Lynne Murray, they have one daughter, Candace Jordan.